APPLICATION OF 3D-PRINTING TECHNOLOGY TO CREATE THIN FILM ELECTRODES BASE ON GRAPHENE OXIDE/POLYVINYL ALCOHOL COMPOSITE
115 views
Keywords:
3D printing; Electrochemical activity; Graphene oxide; Polyvinyl alcohol.
Abstract
This work presented a method to create graphen oxit/polyvinyl ancol inks and using 3D printing technique to manufacture a thin film electrode. First, the gel graphene oxide (GO) was synthesized by Tour's method. After that, GO was mixed with polyvinyl alcohol (VPA) with specific ratio to become direct inks. Second, the inks was printed on graphite paper substrates by using direct ink writing. The morphology and component of chemical elements were determined using Scanning Electron Microscope (SEM), Scanning transmission electron microscopy (TEM), Energy-dispersive X-ray spectroscopy. As- printed electrodes was calculated electrochemical parameters by using CV technical in K3[Fe(CN)6]/K4[Fe(CN)6] solution. The results show that, with PVA occupied 12 percentage of weight, electrode has stability and electrochemical activity highest.
References
[1]. Wongbong Choi, J.,Graphene, "Synthesis and Applications", CRC Press, (2011).
[2]. Ying Wang, Sheng Zhang, Dan Du, Yuyan Shao, Zhaohui Li, Jun Wang et al, "Self- aseembly of aectylcholineserase on a gold nanoparticles - graphene nanosheet hybrid for organophosphate pesticide detection using polyelectrolyte as a linker", Journal of Materials Chemistry 21, (2011), 5319-5325.
[3]. Feng Zhang, Min Wei, Vilayanur V.Viswanathan, Benjamin Swart, Yuyan Shao, "3D printing technologies for electrochemical energy storage", Nano energy 40, (2017), 418-431.
[4]. Rafael M.Cardoso, Silvia V.F.Castro, Murilo N.T Silva, Ana P.Lima, Mario H.P.Santana, Edson Nossol, Rodrigo A.B.Sliva, Eduardo M.Richter, Thiago R.L.C Paixao, Rodrigo A.A Munoz, "3D-Printed flexible device combining sampling and detection of explosives", Sensors and Actuators B: Chemical, (2019), 30659-30667.
[5]. George Z. Kyzas, Eleni A. Deliyanni and Kostas A. Matis, "Graphene oxide and its application as an adsorbent for wastewater treatment", Journal of Chemical Technology & Biotechnology, 89, (2014), 196-205.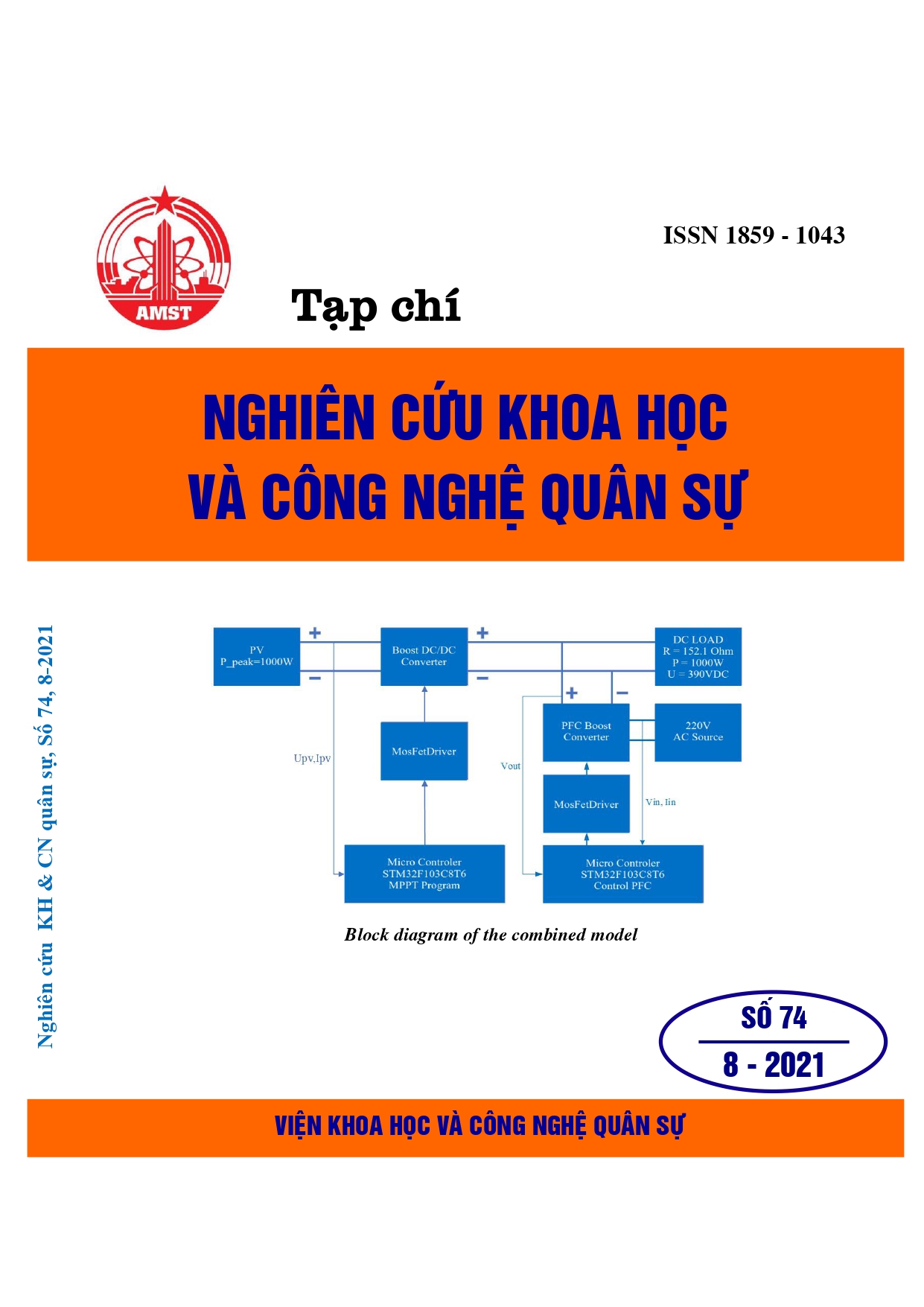 Downloads
How to Cite
Do Thi, T. "APPLICATION OF 3D-PRINTING TECHNOLOGY TO CREATE THIN FILM ELECTRODES BASE ON GRAPHENE OXIDE/POLYVINYL ALCOHOL COMPOSITE". Journal of Military Science and Technology, no. 74, Aug. 2021, pp. 79-85, https://en.jmst.info/index.php/jmst/article/view/11.
Section
Research Articles