GRAFT COPOLYMERIZATION OF ACRYLAMIDE ONTO STRAW CELLULOSE: EFFECT OF COMPOSITION OF REACTANTS ON REACTION PERFORMANCE
83 views
Keywords:
Acrylamide; Graft polymerization; Cellulose; Straw.
Abstract
The effect of cellulose fiber size, acrylamide (AM) concentration, monomer/fiber ratio and initiator concentration in the polymer graft polymerization process on cellulose obtained from straw was researched. The material was characterized by FTIR spectra, thermal gravimetric analysis (TGA) and their morphology were investigated by SEM images. The results show that the grafted product has a higher thermal stability compared to the grafted yarn. SEM image is evidence that acrylic grafting took place on cellulose fiber with grafting yield (%GY) = 35,2%, grafting efficiency (%GE) = 29,4% and total conversion percentage (%TC) = 89,9%. Therefore, the fiber size is 0.2 cm, acrylamide with concentration = 1.5 M, monomer/fiber ratio = 2.5 g/g and initiator concentration = 0.083 M  was chosen for the process of grafting acrylamide to cellulose obtained from straw.
References
[1]. Nguyễn Trung Đức (2017), "Nghiên cứu quá trình trùng hợp ghép một số vinyl monome lên xenlulozơvà thử nghiệm ứng dụng hấp thu dầu", Viện Hàn lâm Khoa học và Công nghệ Việt Nam.
[2]. Biranchinarayan Toshand Chitta Ranjan Routray. Grafting of Cellulose Based Materials: A Review. Chem Sci Rev Lett 2014, 3(10), 74 – 92.
[3]. Wei – Min Cheng, Xiang – Ming Hu, De – Ming Wang, Guo – Hua Liu (2015), "Preparation and Characteristics of Corn Straw-Co – AMPS – Co – AA Superabsorbent Hydrogel".
[4]. Jiande Gao, Jin Liu, Hui Peng, Yây Wang, Sha Cheng, Ziqiang Lei (2018) "Preparation of a low-cost and eco-friendly superabsorbent composite based on wheat bran and laterite for potential application in Chinese herbal medicine growth", Royal Society Open Science.
[5]. Phan Thị Minh Ngọc, Bùi Chương (2011), "Cơ sở hóa học Polyme, Tập 1", Nhà xuất bản Bách Khoa Hà Nội.
[6]. Tao Wan, Runqiu Huang, Lei Xiong, Qihua Zhao, Lei Luo, Haibo Zhang, Guojun Cai (20130, "Swelling behaviors and gel strength studies of wheat straw – composite superabsorbent", Journal of Composite Materials, 2014.
[7]. Xin Feng, Junjie Wan, Jinchuan Deng, Wenshu Qin, Na Zhao, Xueping Luo, Mantian He, Xiaoxin Chen (2019), "Preparation of acrylamide and carboxymethyl cellulose graft copolymers and the effect of molecular weight on the flocculation properties in simulated dyeing wastewater under different pH conditions", International Journal of Biological Macromolecules.
[8]. Deni Swantomo, Rochmadi, Kris Tri Basuki, Rahman Sudiyo "Synthesis of smart biodegradable hydrogels cellulose – acrylamide using radiation as controlled release fertilizers", Advanced Materials Research Vol 896 (2014) pp 296 – 299.
[9]. A.M. Dumitrescu, G. Lisa, A.R. Iordan, F. Tudorache, I. Petrila, A.I. Borhan, M.N. Palamaru, C. Mihailescu, L. Leontie, C. Munteanu "Ni ferrite highly organized as humidity sensors", Materials Chemistry and Physics 156 (2015) 170 – 179.
[10]. Navarini L, Gilli R, Gombac V, Abatangelo A, Bosco M, Toffanin R. "Carbohydr Polym 1999;40:71".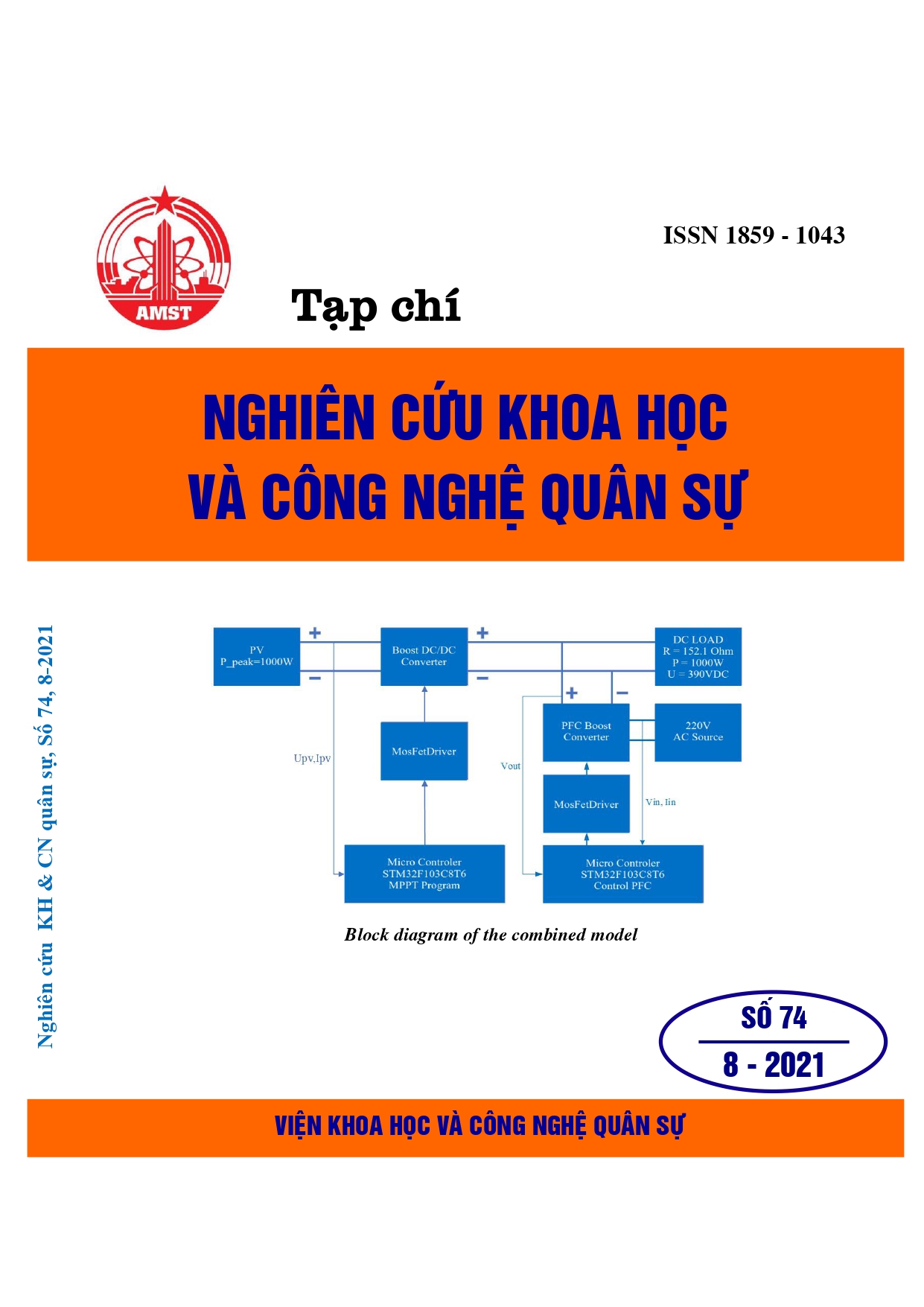 Downloads
How to Cite
Hoang Thi, P. "GRAFT COPOLYMERIZATION OF ACRYLAMIDE ONTO STRAW CELLULOSE: EFFECT OF COMPOSITION OF REACTANTS ON REACTION PERFORMANCE". Journal of Military Science and Technology, no. 74, Aug. 2021, pp. 91-98, https://en.jmst.info/index.php/jmst/article/view/13.
Section
Research Articles