A FLEXIBLE SCADA ARCHITECTURE FOR AUTO-INSPECTION OF THE ELECTRIC MOTORCYCLES BASED ON OPC SERVER AND PLC
2 views
Keywords:
SCADA; OPC Server; PLC; IPC; WinCC Flexible; KEPware Ex; Electric motorcycle check.
Abstract
This paper presents a solution for designing and implementing a SCADA system with 4-layer architecture including IPC industrial computer, PLC programmable logic controller, actuators and sensors. The SCADA software was designed with WinCC Flexible; the objects were embedded and linked using the OPC Server KEPware Ex tool. The solution was applied to the process of terminal inspection of electric motorcycles in some companies to assess whether the vehicle meets circulation standards or not.
References
. Bộ GTVT (2012), "Quy định về kiểm tra chất lượng an toàn kỹ thuật và bảo vệ môi trường trong sản xuất, lắp ráp xe mô tô, xe gắn máy", Thông tư 45/2012/TT-BGTVT.
. Bộ Tư lệnh TTG (2021), "Nghiên cứu, thiết kế chế tạo hệ thống tự động đo và lưu trữ các tham số vận hành của xe tăng", Báo cáo tổng hợp, Đề tài BQP.
. Lê Ngọc Bích, Trần Thu Hà, Phạm Quang Huy (2016), "Điều khiển và giám sát với PLC Omron & WinCC", NXB Bách khoa Hà Nội.
. Minister of Natural Resources Canada (2014), "Learn the facts: Fuel consumption and CO2".
. Frank Iwanitz, Jurgen Lange (2001), "OLE for process control", Huthig Gmbh Heidelberg, Germany.
. Linda Wills et al. (2001), "An open platform for reconfigurable control", IEEE control systems magazine, 21(3).
. Isaías González, Antonio José Calderón, Antonio Javier Barragán, José Manuel Andújar (2017), "Integration of sensors, controllers and instruments using a novel OPC architecture", Sensors, No. 17, Article ID. 1512.
. Stojan Persin, Boris Tovornik and Nenad Muskinja (2003), "OPC-driven Data Exchange between MATLAB and PLC-controlled System", Int. J. Engng Ed. Vol. 19, No. 4, pp. 586–592.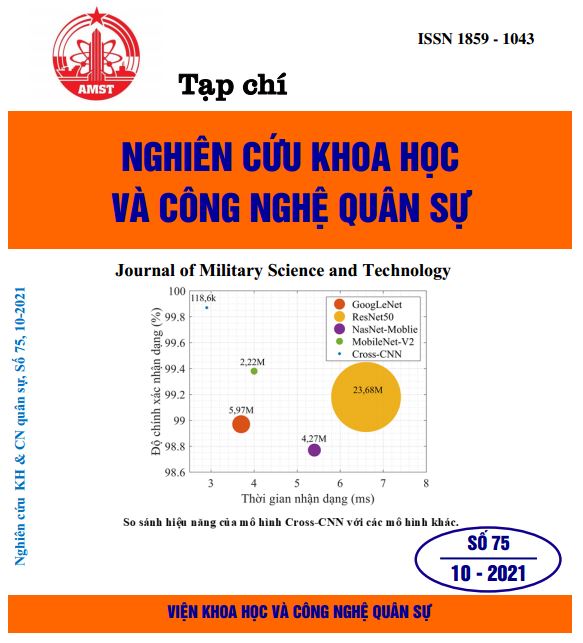 Downloads
How to Cite
Huy. "A FLEXIBLE SCADA ARCHITECTURE FOR AUTO-INSPECTION OF THE ELECTRIC MOTORCYCLES BASED ON OPC SERVER AND PLC". Journal of Military Science and Technology, no. 75, Oct. 2021, pp. 65-73, https://en.jmst.info/index.php/jmst/article/view/267.
Section
Research Articles