SYNTHESIS AND CHARACTERIZATION FOR ZINC UNDECYLENATE OF THE HIGH QUALITY
7 views
Keywords:
Zinc undecylenate; Acid undecylenic; Complexometric titration; Antifungal.
Abstract
 This article presents a method of synthesizing and analyzing zinc undecylenate obtained by the reaction between zinc acetate and undecylenic acid solutions with the raw materials consisted of zinc oxide, acetic acid, undecylenic acid and ethanol. The synthesized results showed that the obtained zinc undecylenate content reached more than 98%, which satisfies the content standards for pharmaceutical and cosmetic raw materials. In addition, the synthesis efficiency reached more than 95%.
References
. European Pharmacopoeia (Ph. Eur.) 10th Edition., "Zinc undecylenate", 2019.
. United States Pharmacopeia (UPS 41), "Zinc Undecylenate", 2018.
. Bergfeld W. F., Donald V., and Hill R. A., "The cosmetic ingredient review - Safety Assessment of Zinc Salts as Used in Cosmetics", Cosmetic Ingredient Review, Washington DC, 2018.
. Time C., Present D., Size Z., and Pollack P., "Comparative in vitro and in vivo antifungal cctivity of tolnaftate and various undecylenates", Journal of Pharmaceutical Sciences, 1980, 69(6):739–741.
. Nikolov A. and Ganchev D., "Effect of zinc undecylenates on plant pathogenic fungi", Bulgarian Journal of Agricultural Science, 2010, 16(2):220–226.
. Sigma-Aldrich, "Zinc undecylenate 98%, CAS 557-08-4".
. Chemical-Spectrum, "Zinc Undecylenate, CAS 557-08-4".
. Xu Q., Zhengjian H., Chengxian L., and Weibin, "Patent CN102417446A - Production method for zinc undecylenate", Guangxi Yikang Pharmaceutical Co., Ltd, 2011.
. Spectrabase, "Zinc undecylenate - Attenuated Total Reflectance Infrared (ATR-IR) Spectrum", https://spectrabase.com/spectrum/H6pD36UQozj.
. HORIBA Jobin Yvon. "Raman Data and Analysis. Raman Spectroscopy for Analysis and Monitoring". HORIBA Jobin Yvon Raman application note, 2013.
. Petrović M., Bonvin D., Hofmann H., and Ebersold M. M., "Fungicidal PMMA-undecylenic acid composites, International Journal of Molecular Sciences", 2018, 19(1):184.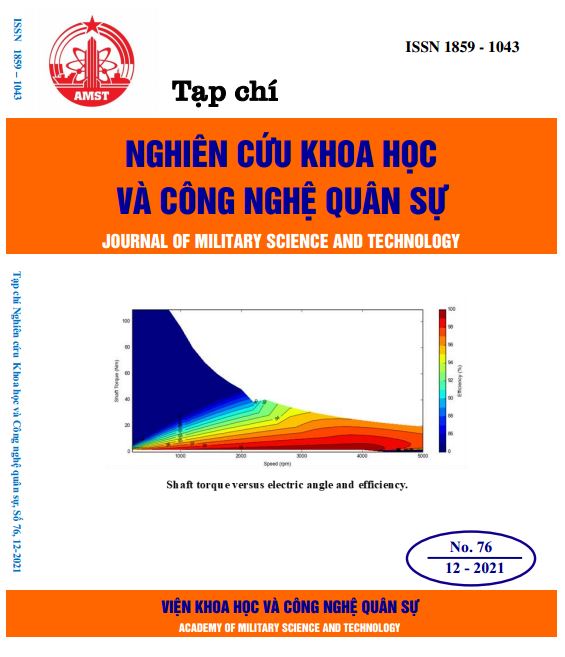 Downloads
How to Cite
Hoàng Thanh Long. "SYNTHESIS AND CHARACTERIZATION FOR ZINC UNDECYLENATE OF THE HIGH QUALITY". Journal of Military Science and Technology, no. 76, Dec. 2021, pp. 112-9, doi:10.54939/1859-1043.j.mst.76.2021.112-119.
Section
Research Articles