THE ALGORITHM CONTROL PIN DIODE IN M-ПФ.05 MODULE OF PHASE ARRAY RADAR
3 views
Keywords:
Phase array antenna; PIN diode; Phase shifter control.
Abstract
Phase array antenna systems are widely used in many modern military devices such as: radar, fire control radar, self-propelled missile. Phase array radar is a 3-coordinate active radar with an imported phase array antenna so the software was encode and could not be reverse-translated. In this paper, we present the basis of constructing algorithm to control PIN diode in the M-ПФ.05 phase shifter control module of phase array radar (on the basis of detailed survey of the signals input/output and readable software on the EPM7256AETI-100 programmable chip of the original Russian M-ПФ.05 module).
References
. Khí tài "Ra đa mạng pha", Thuyết minh kỹ thuật và hướng dẫn sử dụng, BTL Hải quân.
. Khí tài "Ra đa mạng pha", Liệt kê các thông số kỹ thuật cơ bản, BTL Hải quân.
. Mailloux, R. J., "Phased Array Antenna Handbook", Artech House, 2005.
. "MAX 7000A Programmable Logic Device Data Sheet", Altera Corporation, September 2003, ver. 4.5.
. W. E. Doherty. Jr, R. D. Joos, "The PIN Diode Circuit Designers Handbook", Microsemi Corporation, 1998.
. Application Note 929, "Fast Switching PIN Diode", Agilent Technologies, 1999.
. Application Note 1049, "A Low Distortion PIN Diode Switch Using Surface Mount Devices", Agilent Technologies, 1999.
. "My First FPGA Design Tutorial", Altera Corporation, July 2008.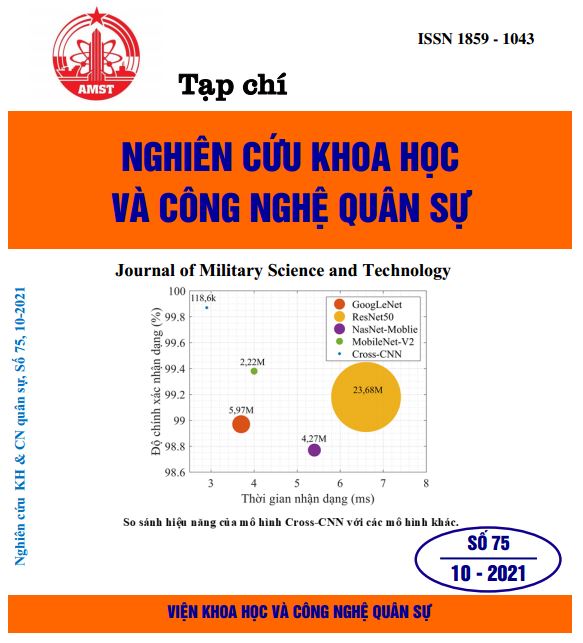 Downloads
How to Cite
Hạnh. "THE ALGORITHM CONTROL PIN DIODE IN M-ПФ.05 MODULE OF PHASE ARRAY RADAR". Journal of Military Science and Technology, no. 75, Oct. 2021, pp. 50-56, https://en.jmst.info/index.php/jmst/article/view/273.
Section
Research Articles