STUDY ON EFFECT OF TEMPERATURE AND CONTENT ON EFFECTIVE CORROSION INHIBITOR OF MULTI-METAL ADDITIVE SYSTEM USED IN ETHYLENE GLYCOL-BASED COOLANT
9 views
Keywords:
Coolant; Ethylene glycol; Corrosion inhibitors; Electrochemical method.
Abstract
This work presents the results of research on the anti-corrosion ability of AC-2HM complex additive system consisting of traditional additives combining organic acids on multi-metal systems including steel, copper, aluminum in corrosion water. The results show that the optimal concentration of the additive is 5% of the amount of cooling water. Research results of the electrochemical method show that the additive system has the ability to inhibit corrosion up to over 97%-99% under normal conditions. At high temperatures, the corrosion inhibition efficiency is reduced to 89-94%.
References
. W. G. Lloyd and F. C. Taylor, "Corrosion by and Deterioration of Glycol and Glycol-Amine Solutions," Industrial & Engineering Chemistry, vol. 46, no. 11, pp. 2407-2416, 1954/11/01 1954.
. G. Song and D. H. StJohn, "Corrosion of magnesium alloys in commercial engine coolants," Materials and Corrosion, vol. 56, no. 1, pp. 15-23, 2005.
. W. Zhou, N. N. Aung, A. Choudhary, and M. Kanouni, "Evaluation of corrosion resistance of magnesium alloys in radiator coolants," Corrosion Engineering, Science and Technology, vol. 46, no. 4, pp. 386-391, 2011/06/01 2011.
. G.-L. Song and D. StJohn, "Corrosion behaviour of magnesium in ethylene glycol," Corrosion Science, vol. 46, pp. 1381-1399, 06/01 2004.
. A. Haroooni, H. Eskandari, M. H. Maddahy, I. Danaee, and S. Nikmanesh, "Corrosion behavior of 6063 aluminum alloy in ethylene glycol-water solution," Iranian Journal of Materials Science and Engineering, vol. 12, pp. 34-44, 12/01 2015.
. J. Zaharieva, M. Milanova, M. Mitov, L. Lutov, S. Manev, and D. Todorovsky, "Corrosion of aluminium and aluminium alloy in ethylene glycol–water mixtures," Journal of Alloys and Compounds, vol. 470, no. 1, pp. 397-403, 2009/02/20/ 2009.
. M. Asadikiya, Y. Zhong, and M. Ghorbani, "Corrosion Study of Aluminum Alloy 3303 in Water-Ethylene Glycol Mixture: Effect of Inhibitors and Thermal Shocking," International Journal of Corrosion, vol. 2019, p. 9020489, 2019/01/10 2019.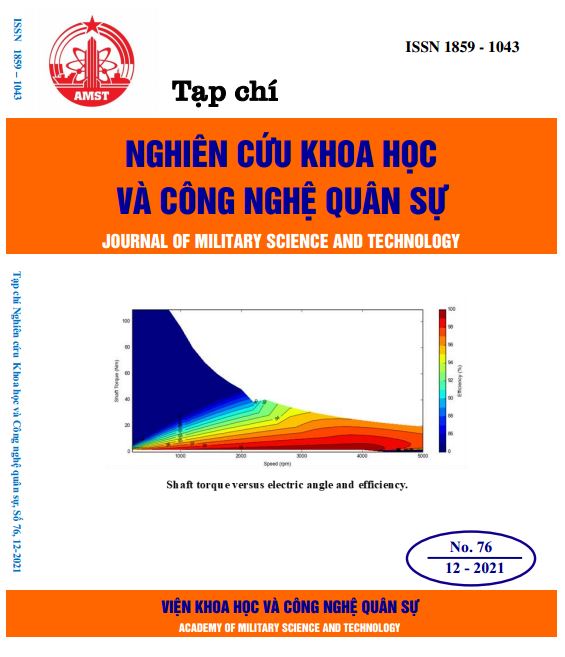 Downloads
How to Cite
Nguyễn Thị Hương. "STUDY ON EFFECT OF TEMPERATURE AND CONTENT ON EFFECTIVE CORROSION INHIBITOR OF MULTI-METAL ADDITIVE SYSTEM USED IN ETHYLENE GLYCOL-BASED COOLANT". Journal of Military Science and Technology, no. 76, Dec. 2021, pp. 98-103, doi:10.54939/1859-1043.j.mst.76.2021.98-103.
Section
Research Articles