DYNAMICS EQUATIONS OF FLYING OBJECTS EQUIPPED WITH A SMALL TURBINE ENGINE
11 views
Keywords:
Motion dynamics; Small turbine engines; Flying object.
Abstract
 The paper presents a method of resolving dynamics equations of flying objects by combining them with some basic operating parameters of a small turbine engine working in different flight modes. The result of this paper is one of the steps to complete the dynamics equations, approach the actual results more accurately and effectively. That support the system design period and reduce the number of experiments for a project of designing and manufacturing flying object using small turbine engines.
References
. Nguyễn Đức Cương, "Mô hình hóa và mô phỏng chuyển động của khí cụ bay tự động", NXB. Quân đội nhân dân, 2002.
. Бакулева В.И., "Термогазодинамические расчеты и расчет характеристик авиационных ГТД", М: Издательство МАИ. 2002.
. Ладошин А.М. Яковлев В.М,"Расчет и проектирование центробежного компрессора ГТД", МГТУ им Баумана, 2008.
. Холщевников К.В, "Теория и расчет авиационных лопаточных машин". "Машиностроение", 1970.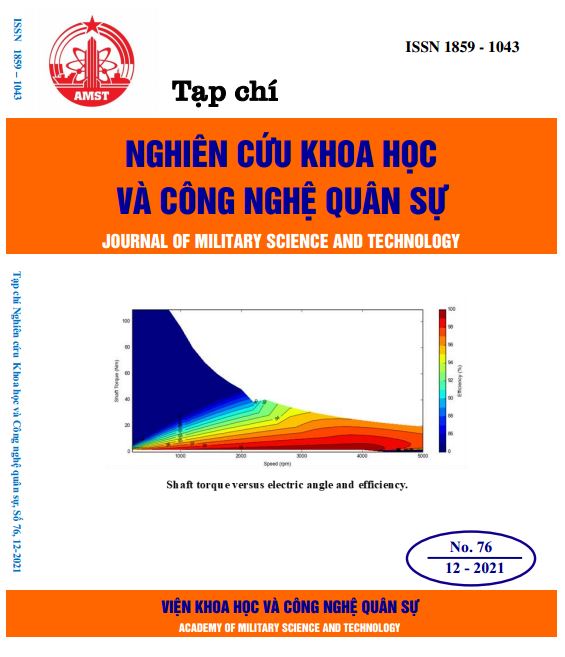 Downloads
How to Cite
Mai Duy Phương. "DYNAMICS EQUATIONS OF FLYING OBJECTS EQUIPPED WITH A SMALL TURBINE ENGINE". Journal of Military Science and Technology, no. 76, Dec. 2021, pp. 151-6, doi:10.54939/1859-1043.j.mst.76.2021.151-156.
Section
Research Articles