RESEARCH ON THE SYNTHESIS OF Ц-2 COMPOUND BY NON-SEPARATING TRANS-TAD METHOD
102 views
Keywords:
Ц-2; Trans-TAD; TNAD; EDA.
Abstract
In this paper, some results of research on synthesizing Trans-1,4,5,8-tetranitroso-1,4,5,8- tetraazadecalin (Ц-2) to use as an energy additive in propellant are presented. Research results show that when using reactants with mass ratio glyoxal/EDA/sodium nitrite/acetic acid/nitric acid 145/205/310/4,5/1890, the synthesis is carried out in two stages, the temperature of the first stage reaction is fixed at 55±2 oC, the second stage is fixed at 10±4 oC, and the time of the first stage is 5 o'clock, the nitric acid concentration is 30% gives the yield up to 71.18% and the product after synthesis and purification meets the requirements for use in preparing propellants used in artillery.
References
[1]. "Жуков Б.П. Энергетические конденсированные системы - Краткий энциклопедический словарь". Издательство: Москва «Янус-К» (2000), pp405-406.
[2]. S. L. Lukin, V. M. Ginoev, L. B. Sirotkin, V. S. Matugunllin, R. G. Dranichnicova, V. T. Sibagatullina, R. U. patent RU2144532C1 (2000).
[3]. Зиновьев В.М., "Высокоэнергетические наполнители твердых ракетных топлив и других высокоэнергетических конденсированных систем. Физико-, термохимические характеристики, получение", применение – (2011), pp 186-187.
[4]. R. L. Willer, J. Propellants, Explos. , Pyro. 8, "Synthesis and characterization of high energy compounds TNAD", 1983, pp 65-69.
[5]. Phan Tống Sơn, Trần Quốc Sơn, Đặng Như Tại, "Cơ sở hóa học hữu cơ, tập 2", Nhà xuất bản khoa học và trung học chuyên nghiệp (1980), pp 107-109.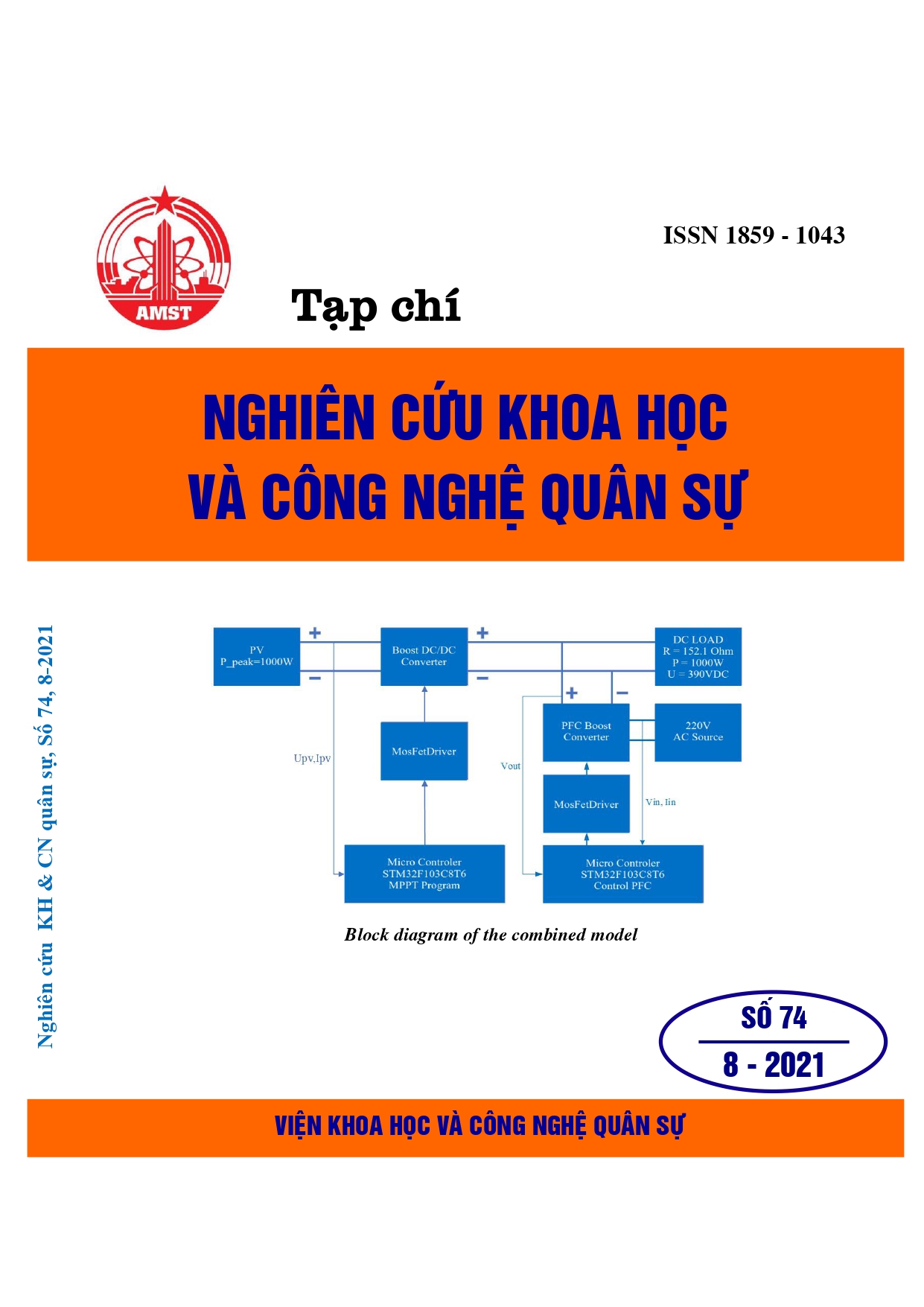 Downloads
How to Cite
Tran Van, P. "RESEARCH ON THE SYNTHESIS OF Ц-2 COMPOUND BY NON-SEPARATING TRANS-TAD METHOD". Journal of Military Science and Technology, no. 74, Aug. 2021, pp. 59-63, https://en.jmst.info/index.php/jmst/article/view/8.
Section
Research Articles