BUILDING PROCESS FOR DETERMINATION OF DIETYLEN GLYCOL DINITRAT (DEGDN) AND TRIETYLEN GLYCOL DINITRAT (TEGDN) IN THERMAL EXPLOSIVE DRUGS BY HIGH PRESSURE LIQUID CHROMATOGRAPHY (HPLC)
7 views
Keywords:
Thermal explosives; Dietylene Glycol Dinitrate; Trietylene Glycol Dinitrate; HPLC.
Abstract
This report show the procedure for the quantification of DEGDN and TEGDN in thermocouple explosives by HPLC method. Based on the description of the characteristics and properties of DEGDN, TEGDN, optimal conditions for the separation of DEGDN, TEGDN was research. Research results have assessed the repeatability of the analytical method through RSD values ​​always <5%; linearity is seen through steady R2 values> 0.99; The accuracy of the recovery efficiency of DEGDN and TEGDN is in the range from 94.24% to 98.16% with high repeatability. LOD detection limits of TEGDN and DEGDN are: 1.44 ppm and 4.09 ppm, respectively. The LOQ quantification limits of TEGDN and DEGDN are 4.78 ppm and 13.61 ppm, respectively. The test results show that the method has high reliability and can be completely applied in the facility.
References
. "Nghiên cứu thiết kế chế tạo đạn nhiệt áp ĐNA-7V theo kiểu đạn TBG-7V của Nga". Đề tài thuộc đề án KC.NQ.06 cấp Bộ Quốc phòng, năm 2018;
. MIL-STD-286C military standard propellants, solid: Sampling, examination and testing;
.Tạ Thị Thảo (2006). "Bài giảng Thống kê trong Hóa phân tích",Trường ĐH Khoa học Tự nhiên;
. Phạm Luận (2000). "Cơ sở lý thuyết sắc ký lỏng hiệu năng cao", NXB ĐH QGHN;
. Nguyễn Văn Ri (2006). "Chuyên đề các phương pháp tách chất", NXB ĐH QGHN;
. Determination of diethylene glycol dinitrat and nitroglycerin by infrared spectroscopy;
. Xiao Ling Xing, Sheng Xiang Zhao. Zhen Yu Wang, and Guang Tao Ge; "Discussions on thermobaric explosives (TBX) Propellants", Explosives and pyrotechnics; 39; 2014; pp 14-17.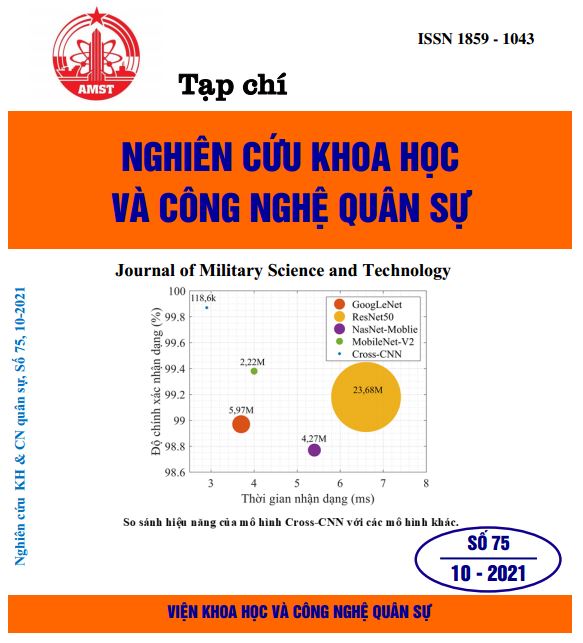 Downloads
How to Cite
Giang. "BUILDING PROCESS FOR DETERMINATION OF DIETYLEN GLYCOL DINITRAT (DEGDN) AND TRIETYLEN GLYCOL DINITRAT (TEGDN) IN THERMAL EXPLOSIVE DRUGS BY HIGH PRESSURE LIQUID CHROMATOGRAPHY (HPLC)". Journal of Military Science and Technology, no. 75, Oct. 2021, pp. 86-93, https://en.jmst.info/index.php/jmst/article/view/270.
Section
Research Articles