THE EFFECTS OF SOME FACTORS ON QUALITY OF SHEET EXPLOSIVE TN6-VN
3 views
Keywords:
Explosive; Sheet explosives; Explosive reactive armour; HMX; RDX; PETN.
Abstract
This article gives some results in researching of the effects of some factors on quality of sheet explosives, named TN6-VN. The results shows that the content of explosive, the particle size of explosive PETN, the plastisizer and additives contents, the particle size of technical additives have significant influencce to density, tensile strength, velocity of detonation (VOD), brisance and other properties. The sheet explosives product TN6-VN manufactured by researched process show that they can be suitable for required technical specifications, be similar with other foreign sheet explosives product.
References
. M.B. Talawar, S.K. Jangid, T. Nath, R.K. Sinha, S.N. Asthana, "New directions in the science and technology of advanced sheet explosive formulations and the key energetic materials used in the processing of sheet explosives: Emerging trends", Journal of Hazardous Materials 300 (2015), p. 307-320.
. Karim Elsharkawy, "1,1-Diamino-2,2-Dinitroethene (FOX-7) Based Sheet Explosive Material with Glycidyl Azide Polymer in Comparison with RDX Based System", International Journal of Engineering Research & Technology (IJERT), 2017, p. 136-146.
. S.N. Nath, J.S. Asthana, "Studies on RDX based sheet explosives with estanebinders, Theory and practices of energetic materials", Shenzhen, Guangdong,China, October 8–11, in: Proceedings of the Second International AutumnSeminar on Propellants, Explosives and Pyrotechnics, Vol.II, 1997.
. John S. Dick, "How to Improve Rubber Compounds: 1500 Experimental Ideas for Problem Solving", Hanser Publications, 2004, p. 23-25, 31 – 32.
. George Wypych, "Handbook of Fillers", ChemTec, 1999, p. 395 - 402.
. Под Ред. Б.П.Жукова, "Энергетические конденсированные системы", Краткий энциклопедический словарь, Изд 2-е исправл – М. Янус К. 2000 с. 102-103.
. Косарев, А.А, "Пластичные и эластичные взрывчатые смеси: метод. указ. к лаб. раб. ", Казань: Изд-во Казан. гос. технол. ун-та, 2007. – 44 с.
. Nguyễn Minh Tuấn, "Nghiên cứu công nghệ chế tạo mẫu thuốc nổ dẻo có tính năng tương đương loại C4", Báo cáo khoa học đề tài cấp BQP, 2015.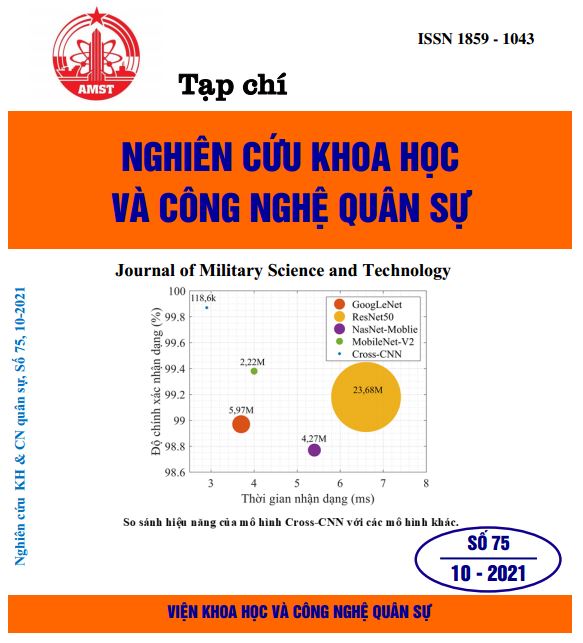 Downloads
How to Cite
Tuấn. "THE EFFECTS OF SOME FACTORS ON QUALITY OF SHEET EXPLOSIVE TN6-VN". Journal of Military Science and Technology, no. 75, Oct. 2021, pp. 74-79, https://en.jmst.info/index.php/jmst/article/view/268.
Section
Research Articles