CHARACTERISTICS OF INTERPOLYELECTROLYTE COMPLEXS AND APPLICATION FOR SOIL IMPROVEMENT AGAINST EROSION
7 views
Keywords:
Interpolyelectrolyte complexs; Polyelectrolyte; Soil fixation.
Abstract
   The study deals with the properties of the interpolyelectrolyte complexs (IPECs) and evaluates the soil's immobilization ability through wind erosion resistance tests. IPECs are formed by interaction of oppositely charged polyelectrolytes, dissolved in strongly electrolytic saline solution and complex with metal ions. The soil layer treated with IPECs, the sample weight was almost unchanged at the test wind speed of 30 m/s and the test water speed of 20 cm/s. IPECs are formed by interaction of poly diallyldimethyl ammonium cloride and sodium polymethacrylate are potential materials to immobilize contaminated soils, especially those contaminated with toxic metals.
References
. S.V. Mkheikin, L.A. Mamaev, K.A. Rybakov, A.N. Alekseev, "Technology of long-term localisation of soils contaminate with radioactive and high-toxic substances", One decade after Chernobyl: Summing up the Consequences of the Accident, IAEA-CN-63-286, 2, 266 – 269, (1996).
. Zezin AB, Mikheikin SV, Rogacheva VB, Zansokhova MF, Sybachin AV, Yaroslavov AA, "Polymeric stabilizers for protection of soil and ground against wind and water erosion", Advances in Colloid and Interface Science, 226, Part A, 17-23 (2015).
. Irina G. Panova, Andrey V. Sybachin, Vasily V. Spiridonov, Kamila Kydralieva, Sharipa Jorobekova, Alexander B. Zezin, Alexander A. Yaroslavova, "Non-stoichiometric interpolyelectrolyte complexes: Promising candidates for protection of soils", Geoderma 307, 91-97 (2017).
. Yong Suk Choi, Sang Woon Kwon, Hee-Man Yang, Kune Woo Lee, Bum-Kyoung Seo, Jei Kwon Moon, "Characterization for Soil Fixation by Polyelectrolyte Complex", Transactions of the Korean Nuclear Society Spring Meeting Jeju, (2014).
. S. V. Mikheikin, A. N. Alekseev, L. V. Pronina, A. Yu. Smirnov, "Interpolyelectrolyte Complexes as Contaminated Topsoil Structureformers", Proceedings of the Int. Conf "Waste Management'98", Tucson, AZ, (1998).
. S. Mikheikin, E. Laguzin, P. Ogulnik, L. Pronina, A. Smirnov, V. Simonov, A. Alexeev, "Interpolyelectrolyte complexes for contaminated soil immobilization and remediation", Proceedings of the Int. Conf "Waste Management'00", Tucson, AZ, (2000).
. S.V. Mikheikin, V. L. Kovaleva, M. R. Petrov, "Interpolyelecrolyte complexes as a barrier to radionuclide migration within soil", Proceedings of the Int. Conf "Waste Management'99", Tucson, AZ, (1999).
. Dmitry V. Pergushov, Vladimir A. Izumrudov, Alexander B. Zezin, and Victor A. Kabanov, "Interpolyelectrolyte complexes as smart binders with controllable stability in water-salt solutions", 3rd International Conference on Intelligent Materials and 3rd European Conference on Smart Structures and Materials (1996).
. Rungsima Chollakup, John B. Beck, Klaus Dirnberger, Matthew Tirrell, Claus D. Eisenbach, "Polyelectrolyte Molecular Weight and Salt Effects on the Phase Behavior and Coacervation of Aqueous Solutions of Poly(acrylic acid) Sodium Salt and Poly(allylamine) Hydrochloride", Macromolecules 46 (6), 2376-2390 (2013).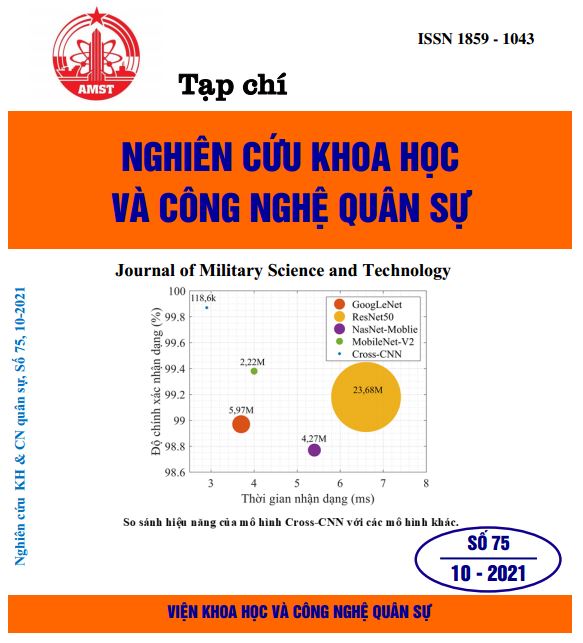 Downloads
How to Cite
Huống. "CHARACTERISTICS OF INTERPOLYELECTROLYTE COMPLEXS AND APPLICATION FOR SOIL IMPROVEMENT AGAINST EROSION". Journal of Military Science and Technology, no. 75, Oct. 2021, pp. 114-9, https://en.jmst.info/index.php/jmst/article/view/275.
Section
Research Articles