A COMPARATIVE STUDY OF THE UV RESISTANCE OF FLUOROPOLYMER COATING AND ORIENTING THE FABRICATION OF DURABLE COATING TO PROTECT WEAPONS
18 views
Keywords:
Environmentally durable coating; UV durable coating; Fluoropolyme; Fluoroethylen-vinyl ete (FEVE).
Abstract
The research aims to manufacture UV durable coating with Fluoropolymer and special pigments and additives. UV durability survey was conducted between Fluoroethylene vinyl ether (FEVE) and Polyurethane, Epoxy, Acrylic, Alkyd. On that basis, research on formulating and manufacturing process of coating with FEVE film-forming substance with different TiO2 pigments (PFC 105, Ti-902, R 767). The samples are tested using the QUV equipment according to the specified standards. Research results have produced a Fluoropolymer coating with high mechanical properties and superior UV resistance of 10% - 20% compared to other paints.
References
. Takashi Takayanagi, Nguyen Nhi Tru, Nguyen Thi Bich Thuy, "Research and application of Fluoropolyme as protective coatings," The 5th National Conference (VICORRA2017) on Corrosion & Metal Protection, Baria, Vietnam, October 2017.
. James Gardiner, Fluoropolymes: Origin, "Production, and Industrial and Commercial Applications," Aust. J. Chem, 2015, 13 – 22.
. H. Tanabe, "The progress of newly developed Fluoropolyme topcoat systems - Weathering performance and track records since the 1980's," Proceedings of the NACE Annual Meeting, March 2011.
. To Thi Xuan Hang, Vu Ke Oanh, Trinh Anh Truc, Pham Gia Vu, Nguyen Tuan Dung, H. Tanabe, M. Nagai, K. Sadaishi, "Study on the weather resistance of organic coating systems under tropical atmospheric conditions," Journal of Science and Technology, 2010, 48(5A), 30-36.
. Vu Ke Oanh, To Thi Xuan Hang, Nguyen Thuy Duong, Nguyen Anh Son, Trinh Anh Truc, Pham Gia Vu, Thai Thu Thuy, H. Tanabe, K. Sadaishi, K. Masuda, "High protection performance of coating system based on zinc rich primer and Fluoropolyme coating," Journal of Science and Technology, 2018, 56(3B), 152 -158.
. H. Tanabe, M. Nagai, T. Kodama, T. Matsumoto, Nguyen Nhi Tru, "Environmental degradation of coatings in humid tropical atmosphere," The 13th Asian-Pacific Corrosion Control Conference, 2003, Osaka – Japan.
. ISO 12944:2007 "Paints and varnishes – Corrosion protection of steel structures by protective paint systems,". ISO/TC 35/SC14 Publication
. M. Yamabe, "Fluoropolymer Coatings," Organofluorine Chemistry, 397 (1994).
. S. Munekata, "Fluoropolymers as Coating Materials," Progress in Organic Coatings, 16, 113-134 (1994).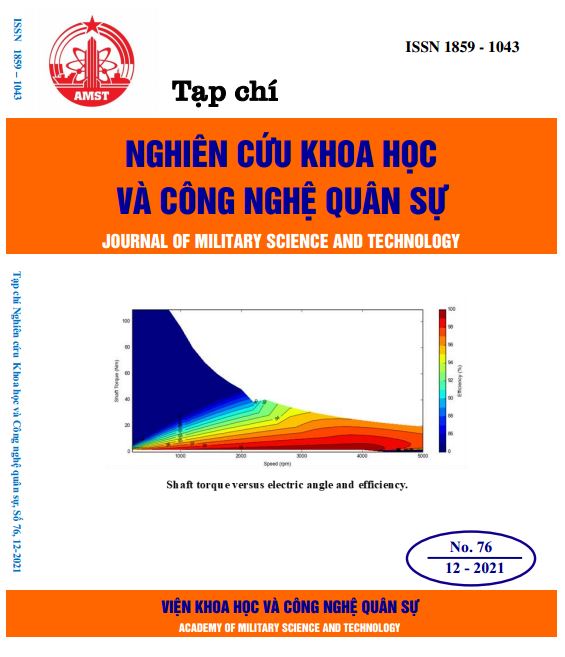 Downloads
How to Cite
Trần Phương Chiến. "A COMPARATIVE STUDY OF THE UV RESISTANCE OF FLUOROPOLYMER COATING AND ORIENTING THE FABRICATION OF DURABLE COATING TO PROTECT WEAPONS". Journal of Military Science and Technology, no. 76, Dec. 2021, pp. 89-97, doi:10.54939/1859-1043.j.mst.76.2021.89-97.
Section
Research Articles