RESEARCHING THE DECOMPOSITION KINETICS OF ACID 2,4-DICHLOROPHENOXYACETIC IN AN AQUEOUS ENVIRONMENT BY DC HIGH VOLTAGE ELECTRICAL TECHNOLOGY WITH THE PLASMA APPEARANCE ON THE IRON ELECTRODE
117 views
Keywords:
Cold plasma; High voltage direct current; OH• free radicals; 2,4-D treatment; Iron electrode.
Abstract
The DC high voltage electrochemical plasma with the appearance of plasma on the electrodes generates active free radicals and oxidizing agents such as ·OH, H2O2. These agents cause the efficient decomposing of 2,4-dichlorophenoxyacetic (2,4-D) organic compounds in the aqueous environment. This paper studied some factors affecting the rate of 2,4-D degradation reaction and mineralization efficiency through chemical oxygen demand index (COD) and total organic carbon index (TOC) content in aqueous solution over time. The research results showed that the decomposition reaction rate of 2,4-D depended on the electrical conductivity and the value of pH. The COD value decreased from 106.0 mg/L to 2.2 mg/L. Similarly, the TOC value decreased from 6.1 mg/L to 2.1 mg/L after 120 minutes of discharge, the ability mineralization of 2,4-D to CO2 reached 65.6 percent.
References
[1]. Nguyễn Đức Hùng. "Phản ứng điện hoá tại điện áp cao với plasma điện cực", Tạp chí Hoá học, T.50 (ĐB) (2012), tr. 103-111.
[2]. Bo Jiang, Jingtang Zheng, Shi Qiu, Mingbo Wu, Qinhui Zhang, Zifeng Yan, Qingzhong Xue, "Review on electrical discharge plasma technology for wastewater remediation", Chemical Engineering Journal, Vol.236 (2014), pp. 348-368.
[3]. Bing Sun, Masayuki Sato, J. Sid Clements, "Optical study of active species produced by a pulsed streamer corona discharge in water", Journal of Electrostatics, Vol.39 (1997), pp. 189-202.
[4]. A. EL-Tayeb, A.H. EL-Shazly, M. F. Elkady, A. Abdel-Rahman, "Simulation and experimental study for degradation of organic dyes using dual pin-to-plate corona discharge plasma reactors for industrial wastewater treatment", Wiley Online Library (2016), doi:10.1002/ctpp.201500080.
[5]. M. Dors, E. Metel, J. Mizeraczyk, "Phenol degradation in water by pulsed streamer corona discharge and fenton reaction", International Journal of Plasma Environmental Science & Technology, Vol.1, No.1 (2007), pp. 76-81.
[6]. P. Manoj Kumar Reddy and Ch. Subrahmanyam, "Green approach for wastewater treatment degradation and mineralization of aqueous organic pollutants by discharge plasma", Ind. Eng. Chem. Res, Vol.51 (2012), pp. 11097-11103.
[7]. Jong-Kwon Ima, Hyun-Seok Sonb, Kyung-Duk Zoha, "Perchlorate removal in Fe0/H2O systems: Impact of oxygen availability and UV radiation", Journal of Hazardous Materials. Vol. 192 (2011), pp. 457-464.
[8]. Quixing Xia, Zhaohua Jiang, Jiankang Wang, Zhongping Yao, "A facile preparation of hierarchical dendritic zero valent iron for Fenton-like degradation of phenol", Catalysis Communications, Vol.100 (2017), pp.57-61.
[9]. P. Sunka, V. Babicky, M. Clupek, P. Lukes, M. Simek, J. Schmidt, M. Cernak, "Generation of chemically active species by electrical discharges in water", Plasma Sources Sci. Technol. Vol.8 (1999), pp. 258-265.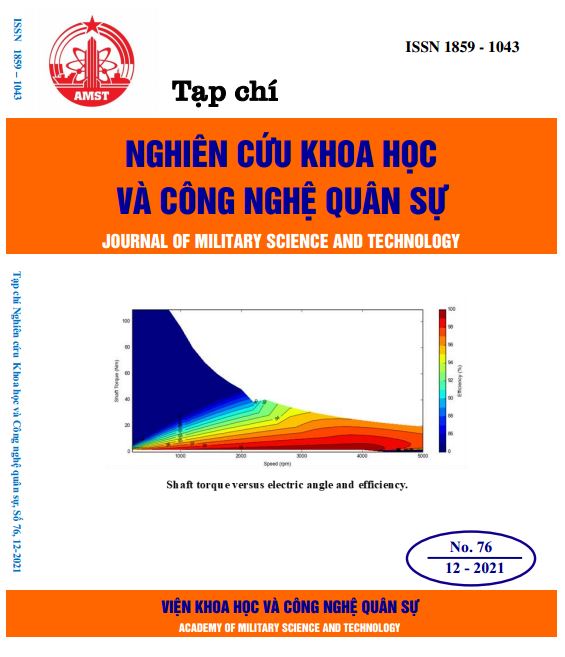 Downloads
How to Cite
Hoàng, Trần Văn Công, Quỳnh, Dung, and Hùng. "RESEARCHING THE DECOMPOSITION KINETICS OF ACID 2,4-DICHLOROPHENOXYACETIC IN AN AQUEOUS ENVIRONMENT BY DC HIGH VOLTAGE ELECTRICAL TECHNOLOGY WITH THE PLASMA APPEARANCE ON THE IRON ELECTRODE". Journal of Military Science and Technology, no. 76, Dec. 2021, pp. 82-88, doi:10.54939/1859-1043.j.mst.76.2021.82-88.
Section
Research Articles