RESEARCHING, DESIGNING, AND MANUFACTURING A BOARD FOR CONTROLLING THE CORE FUNCTIONS AND DISPLAYING A RETICLE FOR THERMAL WEAPON SIGHT
12 views
Keywords:
Thermal weapon sight; Core; Control board.
Abstract
In this paper, the solution to design a circuit used to control the functions of the thermal imaging core (core) and to insert crosshair, graphic characters are presented. The solution serves the problem of designing and manufacturing thermal weapon sight. The circuit is manufactured and tested successfully in the thermal weapon sight based on the design solution.
References
. Flir Inc, "Tau Camera. User's Manual," Flir (2010).
. Flir Inc, "Tau and Quark Symbols Description," Flir (2016).
. B. Deng, Z. Bo, Y. Jia, Z. Gao and Z. Liu, "Research on STM32 Development Board Based on ARM Cortex-M3," 2020 IEEE 2nd International Conference on Civil Aviation Safety and Information Technology ICCASIT (2020), pp. 266-272.
. Olighteck Opto-Electronic Technology, "SVGA060 User's Manual," Opto-Electronic Technology Company (2020).
. Nanda, U. and S. Pattnaik, "Universal Asynchronous Receiver and Transmitter (UART)," 2016 3rd International Conference on Advanced Computing and Communication Systems (ICACCS) 01 (2016), pp. 1-5.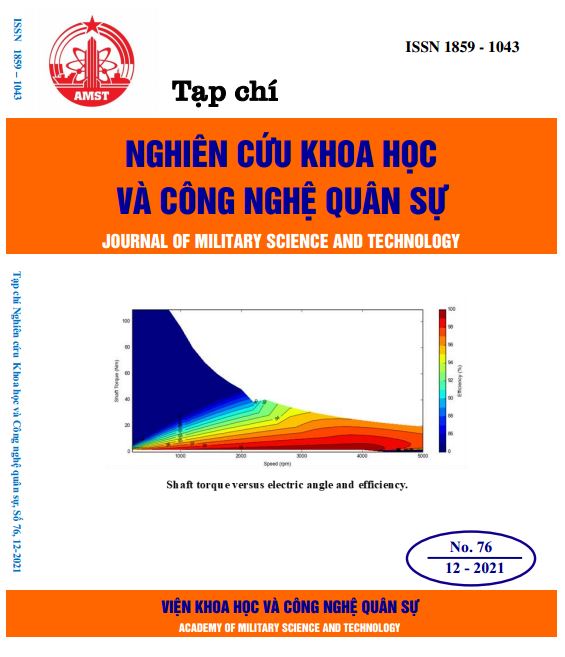 Downloads
How to Cite
Trần Quốc Tuấn. "RESEARCHING, DESIGNING, AND MANUFACTURING A BOARD FOR CONTROLLING THE CORE FUNCTIONS AND DISPLAYING A RETICLE FOR THERMAL WEAPON SIGHT". Journal of Military Science and Technology, no. 76, Dec. 2021, pp. 172-6, doi:10.54939/1859-1043.j.mst.76.2021.172-176.